Bespoke Jewellery Commissions
Bespoke Commissioning a bespoke jewellery item...
If you are looking to commission a bespoke jewellery piece, multi-award winning Charmian Beaton Design in Headcorn, Kent has on site design and make service. We can design your 'one of a kind' jewellery item or we can work from your design ideas.

Charmian has designed for private clients all over the world. Charmian and her workshops work in precious metals including Platinum, 18ct yellow or white Gold and Palladium. Charmian can show you the different metals and advise which are best suited to your bespoke jewellery item. Charmian Beaton Design can arrange to hold precious gemstones and diamonds for you to view and learn about when deciding on your bespoke jewellery item if this is necessary for your jewellery design appointment.
Why come to Charmian Beaton Design?
Apart from the fact that we are award winning, we are unique to most benchwork jewellers in that we do not simply buy readymade jewellery parts and assemble them; we can of course do this if it suits your particular design wish or if this works out the most cost effective method for your design. Our unique approach is to look at each jewellery commission design and decide the best process to create it, whether it be build the item from sheet and wire or carve the item in wax and cast it, cold forge it from rod or even a combination of these processes and many more. We have literally no limitations and this is why our customers tell us we are their favourite jeweller and come from far and wide for our bespoke jewellery.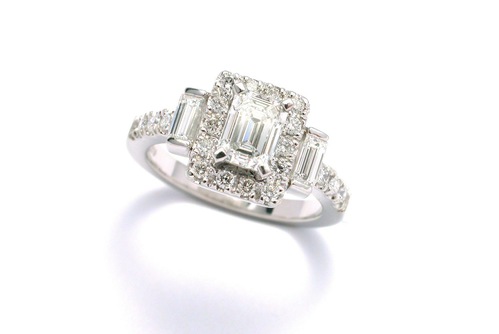 Bespoke jewellery process, how does it work?
So for example you want a platinum engagement ring; this is the most special ring you shall ever buy. It is a proclamation of your love. This is so special you don't want to buy a generic platinum engagement ring which has been manufactured thousands of times and is in every jewellers window - Understandable!
You decide on a bespoke engagement ring from Charmian Beaton Design and this is where you start...
First step is to think about your budget, this is important because without a base point budget Charmian cannot advise on metal or size and quality of Diamond or gemstone you will be able to choose from. We want to be able to offer the best you can for your budget.
Secondly think about the style of ring. Will your partner wish a round brilliant cut diamond? Will he or she prefer yellow or white metal? Love 'bling' with lots of tiny diamonds? Or love a classic style or contemporary style? Perhaps something subtle or with coloured gemstones? These are all basic things to think about initially.
Next your step is to call the shop or email to book an appointment to discuss your custom made jewellery with Charmian.
What to expect...
During the appointment Charmian will discuss with you all your options for your bespoke ring, she can show you gemstones and diamonds, explain the 'confusing' 4 C's and help you understand why they affect the look of a diamond and the prices. She can show you metal colours and different metal finishes and also give you price differences for each.
She can go over your design ideas or if you have none, can show you styles and help you work out what your partner will love.
What if I want designs created for me?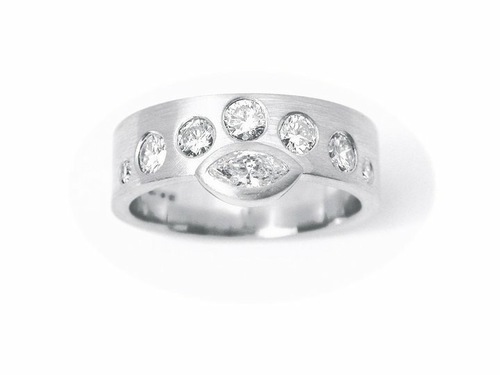 If you decide to have designs created for you by Charmian she will design a couple of pages (usually 6 designs) after an initial discussion regarding your ideas and requirements for your bespoke jewellery item. There is a deposit of £60 to pay before she begins the designs which will then be deducted from the final cost of your chosen bespoke jewellery item. The reason for this deposit is many people do not realise it actually takes a few hours to create designs for a bespoke jewellery item so although happy to create designs for her customers for free, Charmian would prefer not to spend three hours of her time designing for no reason; so the deposit is a guarantee of your commitment to the process.
The designs will take one or two weeks depending on Charmian's workload at that time. If you don't like them, don't panic! She can draw more and won't be upset that you don't like her designs. Likewise if you like elements of some of the designs but want to see them with a different look, they can be redrawn so we get exactly what you are looking for.
The next stage, once a design has been worked out, Charmian shall calculate the cost of the chosen bespoke jewellery item. This can be calculated in a few different metals if requested and with different sizes/qualities of diamonds or gemstones.
The next stage, a 50% deposit is required upon the agreed price for your bespoke jewellery item. Once your deposit has been paid we create your jewellery item. When we are complete we will contact you so you may come and collect your beautiful new jewellery. The final balance is paid when your jewellery is collected and you are happy with your bespoke jewellery item. This is when your £60 design deposit (if you paid one) will be deducted from your bill.
The whole process takes around 3-6 weeks depending on the complication of the job, how much guidance you may need, how much work we have on and of course how quickly you require your bespoke jewellery item!
Hopefully I have answered any questions you might have, however if not, don't hesitate to contact me so I can answer any questions or queries you might want to ask.